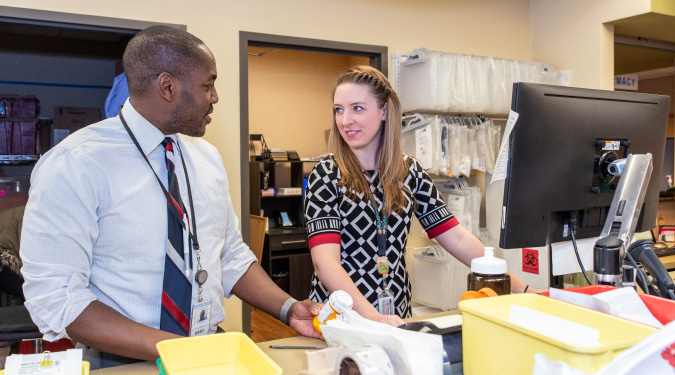 ---
Overview
---
The Rural Health Named Option provides students with unparalleled opportunities to explore innovative pharmacy practice models in rural communities across Wisconsin. Through collaboration with our partners, students are immersed in the current opportunities available to rural practitioners, and actively contribute as key student-members of the rural health care team. Students completing this program will be innovators in rural practice settings, capable of serving their rural communities through expanding novel patient care models, collaborating with interprofessional colleagues, and developing a practice model true to the Wisconsin Idea.
This is an accordion element with a series of buttons that open and close related content panels.
Credits and Courses
Credit Requirements
4 credits of courses over the course of two semesters. Two elective APPE rotations are additionally required.
Required Courses
PHARM 630: Rural Pharmacy Practice, 2 credits, (Fall)

PHM PRAC 628: Practice innovations I, 1 credit, (Fall)

PHM PRAC 629: Practice innovations II, 1 credit, (Spring)
Experiential Requirements
Students will complete two rural-focused Advance Pharmacy Practice Experiences (APPEs) totaling 12 credits during the DPH-4 year. These will be a student's elective APPEs.
APPE-RT can be used for this requirement so long as it is related to Rural Health.
Other Program Requirements
Co-Curricular Requirement:
AHEC Scholars
AHEC Scholars is a two-year program for health professions students interested in supplementing their education and gaining additional knowledge and experience in rural and/or underserved urban settings. This is a longitudinal program with interdisciplinary curricula to implement a defined set of clinical, didactic, and community-based activities. Scholars receive a $250 stipend per year to help finance community-based training and reward them for their dedication to continuing professional development.
Each year, Scholars will complete 40 hours of didactic, online coursework (roughly 2 hours of work per week) and 40 hours of experiential education. The experiential component can be fulfilled by a variety of ways including WI Express Spring break sites, other experiential opportunities (community health fairs, educational programming, etc.) or IPPE and APPE clerkship hours.
Students must be in good academic and professional status to be considered.
Applications due in the Spring Semester of DPH-2 year.