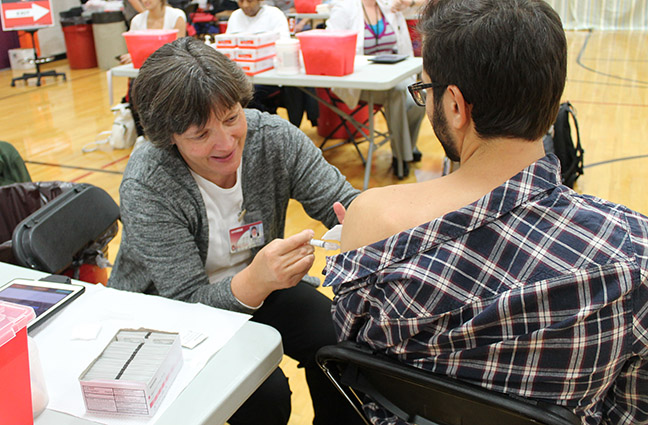 ---
Overview
---
The demand for pharmacists with AMS experience and training is increasing, and there is long-term need for pharmacists working in this field. Antimicrobial stewardship pharmacy goes beyond infectious diseases to include elements of administration, information technology, quality, education, research, communication, and infection control among other aspects. This diverse field has significant impacts on patient care.
This is an accordion element with a series of buttons that open and close related content panels.
Credits and Courses
Credit Requirements
7 credits of required courses taken in the PharmD curriculum, 2 credits of a required elective, and 1-3 credits of an ID elective for a total of 10-12 course credits taken for the path. One elective APPE rotation is additionally required.
Required Courses
PHM PRAC 650: Comprehensive Immunization Delivery, 1 credit
PHM SCI 623: Pharmacology III, 3 credits
PHM PRAC 656: Pharmacotherapy IV, 3 credits
* Note: These courses are taken care of in the PharmD Curriculum
Required Elective
PHM PRAC 560: Seminars in Antimicrobial Stewardship, 2 credits
* Note: This is a REQUIRED ELECTIVE that is available in the Fall at the SOP.
Additional Required Infectious Disease Elective
Take 1-3 credits:
PHM PRAC 467: Interprofessional Collaborative Practice in HIV, 1 credit (Spring)
POP HLTH 801: Epidemiology of Infectious Disease, 3 credits (Spring)
Other POP HLTH Epidemiology courses (Contact the SiP administrator to get approval for new or overlooked courses)
MM&I 301 Pathogenic Bacteriology, 2 credits (Fall and sometimes Spring)
MM&I 341 Immunology, 3 credits (Fall and Spring)
MM&I 350 Parasitology, 3 credits (Spring)
MM&I 554: Emerging Infectious Disease and Bioterrorism, 2 credits
MM&I 555 Vaccines: Practical Issues for a Global Society
Experiential Requirements
PHM PRAC 760: Advanced Pharmacy Practice Experience, the subject of the APPE must be in Infectious Disease, Antimicrobial Stewardship, and/or critical care with a focus on ID or AMS
Students must be in good academic and professional status to be considered.
Cumulative GPA of 2.8 or above.
Applications due in February DPH-2 Year. 
Early consideration applications due end of Fall semester.
Questions about the Path of Distinction in Antimicrobial Stewardship?
Contact:
Nathan McClain
Program Administrator
2220 Rennebohm Hall
Email: nmcclain2@wisc.edu
Phone: (608) 890-0912