Kendra Gurnee
Pharmacology & Toxicology Major Advisor
608-262-4487
2220F Rennebohm Hall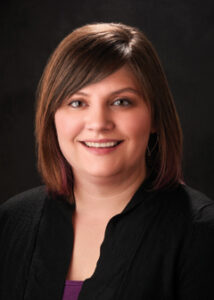 I provide academic, career, and admissions advising to prospective and current Pharmacology and Toxicology major students, whether they are thinking about the major, preparing to apply, or are already in the major. I've been part of the PharmTox program since 2017 – prior to that, I was an advisor with the Biochemistry major and also in Letters & Science Academic Advising Services. I am also a proud alum of UW–Madison twice over, having earned an undergraduate degree and a Master's degree in Social Work from here.
I'm originally from Watertown, Wisconsin, but have been in Madison ever since I came here for college. My career plan as a first-year student was to work in the criminal justice system, so I am a great example of how happenstance and experiences can lead to career paths outside the original plan! Outside of work, I enjoy trying new restaurants and new recipes, couponing (not at the extreme level yet, but working on it), reading every new Stephen King book, and spending time with my spouse and our two cats.
If you are current UW-Madison student, you can schedule an advising appointment via Starfish. Appointments are available via in-person, Zoom, and phone! If you're having trouble using Starfish, email Kendra at kgurnee@wisc.edu.
If you are not yet a UW-Madison student but would like to learn more about the PharmTox major, please email Kendra at kgurnee@wisc.edu to set up a time to meet.