Welcome to the Pharmacy Global Health Interest Group!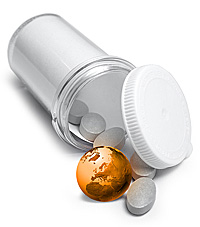 PGHIG
The Pharmacy Global Health Interest Group (PGHIG) is a student organization of the University of Wisconsin-Madison School of Pharmacy, focused on learning more about international healthcare systems and the role pharmacists play in global health. We gather monthly to hear from speakers who are from or have visited various countries around the world. During these meetings we also have discussions regarding the country of interest along with its healthcare system, pharmacy practice, and other relevant topics. PGHIG is a great organization to join if you are interested in global health, participating in an international rotation, or want to explore new cultures!
Upcoming Events
---
"Global Health Tea Time: Opportunities at the School of Pharmacy" with Dr. Laurel Legenza: Informational session about the Graduate/Professional Certificate in Global Health (certificate application is due April 30th). The meeting will take place in 1116 Rennebohm Hall, April 12th, noon-1 pm. This meeting is also a  CCAT APPROVED activity for exploring the profession!
Climate and Health Responder Course: 8-week long FREE online course to receive a Climate and Health Certificate. For more info, click this link!
Global Health Symposium, Making Connections: Health, Climate, and Equity: The Global Health Institute is hosting an in-person and virtual gathering with a keynote speaker and a live panel discussion. Register now and find more info with this link! Symposium will be April 19, 4:30-8:30 pm.
April Research Talk: Gain some insight on the possibilities in global health research by listening to speaker, Dr. Trisha Syes Ranola PHarmD, DCE, CGP, and her experiences. In-person Zoom livestream in TBD Rennebohm Hall. This meeting is also CCAT approved for exploring the profession! Zoom link here.
Certificate in Global Health Applications: Find the certificate application information through this link! A fantastic opportunity to expand your horizons and learn about healthcare in various cultures! Applications due April 30th.
Meeting Minutes
---
Dr. Laurel Legenza's GH Tea Time
April 12th, 2022
Here is the link for more information on the GH certificate and application.
Global Health Field Course Info Session
January 5th, 2022
Reviewed Thailand and Ecuador field course updates in relation to COVID-19. Both are accepting applications for Summer 2022. Visit this link for more info! 
"Mosquitoes y Yo" Program
December 13th, 2021
Dr. Lyric Bartholomay, an entomologist and professor of pathobiological sciences at UW-Madison, discussed her Ecuador program on mosquitos and vector-borne diseases. More information about this program can be found on Dr. Bartholomay's website, linked here.
---
Meetings
Meetings are currently switching between Zoom and in-person, so be sure to keep any eye out! If you are interested in being added to our email list, please send an email to our Webmaster!