Welcome to the Pharmacy Global Health Interest Group!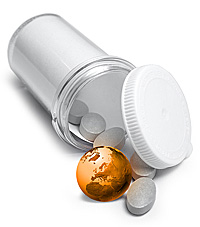 PGHIG
The Pharmacy Global Health Interest Group (PGHIG) is a student organization of the University of Wisconsin-Madison School of Pharmacy, focused on learning more about international healthcare systems and the role pharmacists play in global health. We gather monthly to hear from speakers who are from or have visited various countries around the world. During these meetings we also have discussions regarding the country of interest along with its healthcare system, pharmacy practice, and other relevant topics. PGHIG is a great organization to join if you are interested in global health, participating in an international rotation, or want to explore new cultures!
Upcoming Events
---
Our first meeting will be on October 11th 12:00-1:00PM in lecture hall 2002. The meeting will consist of an introduction to the club and upcoming events, an introduction to the global health certificate, and an introduction to global health as a whole with the PGHIG board members, Betsy Tiegland, and Laurel Legenza. 
International travel is up and running for DPH-3 students to pick international APPEs for their DPH-4 year. Also, DPH-1 & DPH-2 students will have the opportunity to participate in summer field courses for the summer of 2023. More information to come! 
Upcoming CCAT Approved Activities:  
Exploring the Profession:   
Connecting Climate Change, Infectious Diseases and Animal Behavior on Tuesday, September 27th from 4:30-5:30pm via Zoom. (Use the link provided to register).   
Vaccines: Where are we now? Oct 18th from 4:30-5:30pm  
Outreach and Diversity:  
Refugees, Health & Trauma Informed Care: Nov 29th from 4:30-5:30pm  
Meeting Minutes
---
Dr. Laurel Legenza's GH Tea Time
April 12th, 2022
Here is the link for more information on the GH certificate and application.
Global Health Field Course Info Session
January 5th, 2022
Reviewed Thailand and Ecuador field course updates in relation to COVID-19. Both are accepting applications for Summer 2022. Visit this link for more info! 
---
Meetings
Meetings are currently switching between Zoom and in-person, so be sure to keep any eye out! If you are interested in being added to our email list, please send an email to our Webmaster!